About Dr. Mitra
Mitra Makbuleh, Ph.D., MPH
(AKA: Mitra Mekubal, Mitra Maghbouleh, Mitra Magbuleh)
Dr. Mitra Makbuleh is a research psychologist, author, teacher, and personal consultant. She specializes in Spiritual Psychology, Stress Management, and Personal Growth. Her work is primarily based on the Kabbalah (The Jewish Mystical Tradition),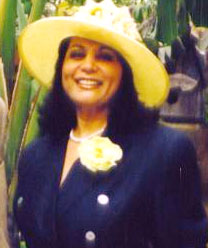 but she is also familiar with other mystical traditions and incorporates their wonderful psychological insights in her work with groups, individuals, and couples.

Mitra's unique expertise has been greatly enhanced by her excellent educational background and her multicultural experiences. She conducted her undergraduate studies in sociology and anthropology at the Tel Aviv University and completed her graduate work in the department of Social Sciences at the University of California Irvine, where she received her Masters and her PhD. In 1979. Dr. Makbuleh was awarded a Phi Beta Kappa, and also received a prestigious postdoctoral fellowship to receive further training at UCLA's School of Public Health, where she was awarded another Masters Degree (MPH) in the Epidemiology.

Dr. Makbuleh has published over 120 Persian and English articles in both popular magazines and research journals. Her articles dealing with individual and cultural creativity, spiritual psychology, religion and mysticism, Sufism, and the Kabbalah have been widely read and have received the highest praise - many of them being reprinted over and over again in the United States, Iran, and Israel. Her book ChelCheragh published in 2003 has received high acclaim from experts and the media.

In appreciation for her outstanding work and selfless contributions to public education, Dr. Mitra was chosen as Woman of the Year in March 2005 by one of the largest women's organizations in Southern California. Mitra has also received honorable mention in the International Who's Who of Professionals and has been extensively featured in the Golden Treasures: Who's Who of Outstanding Persian Jews.

Dr, Mitra's sense of humor, extraordinary communication skills, and her engaging presence have made her one of the most sought after speakers on the West Coast. She has received many requests for radio and television appearances, and was most recently interviewed on the popular television program Life and Times (Southern California's educational channel KCET), where she spoke on the meaning of the Persian festival of Norooz and its connection to the Jewish festival of Purim and to the Christian celebration of Easter.

Mitra lives in Irvine, California. She enjoys traveling, reading, dancing, entertaining friends, and taking contemplative walks around the beautiful Irvine lakes. The following poem which has been published in several spiritual journals was inspired during one of Mitra's early morning walks around the Woodbridge Lake in Irvine.
I AM
I AM Moonstruck
I AM Sun stroked

The Sun and the Moon
The beginning and the End
The Greeting and the Farewell
The light and the darkness

The Eternal Rivals
Have come Together
At the lake in peace.

A Reunion of Opposites
And I AM THE HOSTESS.

In their Honor
I have cleansed my House

of Thoughts,
the Unwanted Guests
Intruding at all times
Without invitation
And Quick to Leave
When Receiving No ATTENTION

I AM Calm,
Choiceless as the Lake
Reflecting the Sun and the Moon
In Joyful Awareness.

I AM LIFE
At 6:45 A.M.
Late September
At the Lake in Woodbridge.
To read more about the scope and impact of Dr. Mita's work, click on Testimonials.